Background on Sheffield
(Photos of Sheffield and surrounding area courtesy of Sheffield City Council)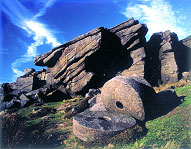 Sheffield has a rich history dating back to pre-roman times. An early settlement developed at the meeting of the rivers Sheaf and Don in a large woodland clearing. Around 1150, a Norman baron built a wooden castle and it was from this site the city of Sheffield began to grow.
In the Middle Ages, Sheffield castle became home to one of the city's most important men - the Earl of Shrewsbury. In 1516 he built Manor Lodge, a country house set in acres of beautiful landscape and two miles to the south east of his castle. This country house became home to Mary Queen of Scots during her imprisonment by Queen Elizabeth in 1568.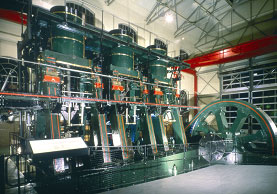 The coincidence of iron ore for smelting, oak woods for charcoal and fast flowing streams for waterpower gave rise to the metal trades that have made Sheffield world famous. Cutlery manufacture began here in the Middle Ages and the prestigious Cutlers' Company of Hallamshire was established in 1624 - and is still in existence today.
Benjamin Huntsman invented crucible steel here in the 1740's and Thomas Boulsover pioneered the making of Sheffield plate around the same time: both led to a great expansion of industrial activity.
The resulting Victorian age boom was aided by continuous improvements in steel production. This was particularly due to Henry Bessemer's invention, the Bessemer Converter, which produced quick steel in bulk.
In 1913 stainless steel was pioneered in Sheffield and during the wars the city was a major centre for armaments production. Stainless steel was ideal for aeroplane engine valves and further anchored Sheffield as the birthplace of metallographic sciences.
The city today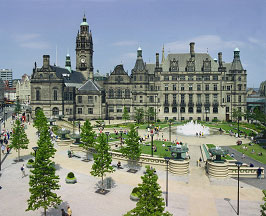 Whilst Sheffield is a city rich in industrial past, it has an even richer future...
The city, with a population of more than half-a-million people has undergone something of a makeover in recent times; not just cosmetic improvement but real tangible changes. At times, even we are amazed at the exciting pace the city is moving at. Historic buildings are gaining a new lease of life and dramatic architecture is springing up. Of course there's everything you would expect... plus a whole lot more!
Prepare yourself to be surprised, and more than a little impressed.
Whatever the weather, Sheffield offers a dazzling array of attractions.
As the greenest city in England, you're never far from one of more than 200 parks, woodlands or gardens. The City Centre is less than 5 miles from the Peak District - most visited national park in the world, after Mount Fuji! This makes Sheffield the perfect base from which to explore.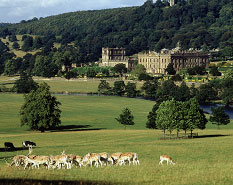 Internationally renowned stately homes, such as Chatsworth and Hardwick Hall sit on our doorstep, while industrial heritage sites of world importance offer fascinating reminders of our industrial past.
Sheffield's rich cultural heritage has been made even richer by a number of recent additions, right in the middle of the city. The Millennium Galleries, a superb new centre for visual art and design, has four exhibition spaces. Graves Art Gallery is home to the city's rich collection of 20th century art. The Site Gallery is an international centre for contemporary art. Yorkshire Arts Space is the UK's only purpose-built art and craft studio complex. Add to this the award winning Sheffield Theatres and the splendid 1920's City Hall and you'll be lost for somewhere to start.
Some people go green with envy when they discover that Sheffield is the greenest city in the country. The City Centre alone boasts the stylish Peace Gardens, elegant Tudor Square, rambling Devonshire Green, riverside walks and the dramatic Winter Garden - home to more than 2,500 plants and the largest glasshouse in any European city centre.
England's fourth largest city boasts an enviable programme of world-class theatre, comedy, classical concerts and international sporting events. Sheffield is also home to some of the coolest nightclubs and regularly plays host to the biggest names in music.
What's more, we can lay claim to the most cinema screens outside London; this includes the Showroom, one of the UK's largest, and voted most stylish, independent cinemas. In short, we're spoilt for choice and are sure you will be too.
There's so much to offer if you want to eat out in Sheffield. Across the city, you can enjoy fantastic food from around the world or relax in an array of cafes and bistros.
Whether it's a lively and long night you're after, or simply a relaxing drink, Sheffield has everything from real ale to really trendy. With some of the best clubs in the world don't be surprised if you're rubbing shoulders with people who've travelled far and wide to be there.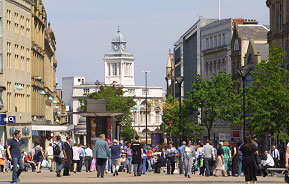 It's hard not to be spoilt for choice in Sheffield when it comes to shopping. A short Supertram ride from the city centre is Meadowhall, one of Europe's biggest shopping centres and a magnet for shopaholics. With over 270 stores, people travel hundreds of miles to shop here, yet it's a mere 4 miles from the heart of the city.
Sheffield's city centre complements Meadowhall perfectly. With its broad pedestrianised streets, high street stores and independent designer shops you can spend serious time - and money - enjoying yourself.
In addition, in the city centre you have all the added benefits of historic buildings, visitor attractions and a wealth of bars and restaurants in easy reach.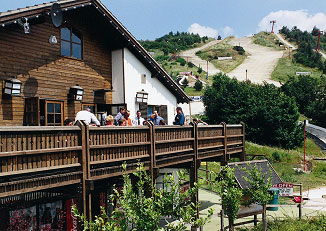 When you've finished shopping and you need some fresh air, after you've enjoyed your meal but want more than a stroll in the park, don't forget that Sheffield has a range of sports facilities which are second to none. Not only can we offer you Olympic standard swimming and diving facilities, you could choose to take a trip up to Europe's largest all season ski resort - Sheffield Ski Village. From beginners to experts - take your chances with skiing, snowblading and snowboarding. If this all sounds a little energetic, just sit back, relax and enjoy the après-ski atmosphere in the Swiss style ski-lodge.
Useful Web Sites
Visitors to Sheffield will find lots of useful information at: