Background on Ponds Forge
(Photos of Ponds Forge courtesy of Sheffield City Council)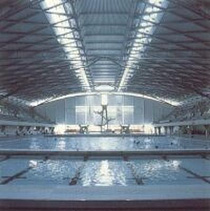 The championships will take place at Ponds Forge International Sports Centre - a world class sporting event venue.
The £54 million complex managed by Sheffield International Venues has state of the art facilities making it ideal for fast, competitive underwater hockey. The international pool is one of the most technically advanced in the world .
It is renowned for staging major swimming events - the 6th World Masters, the European Long and Short Course Championships and, once again last year, the British Olympic Swimming Trials.
Officially opened by the Princess Royal in 1991, the total complex covers an area of 16.5 acres and contains five main elements - Olympic standard swimming pool, Olympic standard diving pool, leisure pool, sports hall and a range of ancillary facilities including function rooms and catering outlets.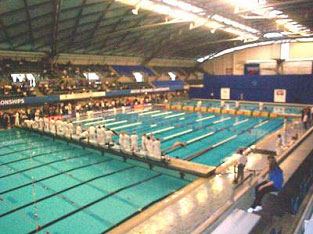 The dominating feature is the 50m by 25m wide (10 lanes of 2.5m) Olympic pool. Two laterally moving mobile bulkheads, with fine tuning capabilities, facilitate an exact distance of either 25m or 50m between the touch pads.
The pool has a minimum depth of 2m and a maximum of 3.1m, making it one of the deepest pools in Great Britain. This depth prevents vortex reflection and provides an environment designed to enable the highest quality competition.
Spectator facilities are top class. The east and west tiers feature nearly 2,400 seats including 64 upholstered VIP seats in a central enclosure. In addition, bleacher seating caters for a further 240 poolside.
View the Ponds Forge website for more information on the venue.