Underwater Hockey - The Lowdown
What is Underwater Hockey?
Underwater Hockey (originally known as "Octopush") is the supreme anaerobic game. It was invented in the early 1950s by sub-aqua divers in Southsea, England who, lacking diving equipment to cope with the cold seas in winter, needed something to do to pass the time away in their dive club pool sessions. 50 years on and the game has spread to much of the world, from Australia to America, Canada to Columbia, New Zealand to the Netherlands. Underwater hockey is fast, furious, and fun .... and you can join in.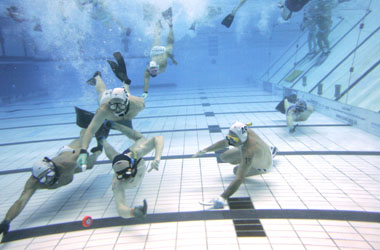 Australia vs France - Open Masters, 21st August 2006
© Sol Neelman
How do you play?
Players wear a diving mask, snorkel, fins, water polo hat and of course a swimming costume. They hold a hockey stick (called a "pusher"), about 30cm long, in a gloved hand. The idea of the game is to use the pusher to push, pass or flick a 1.3kg (3lb) puck between team mates to get the puck into the opposing team's 3 metre long goal (called a "gully") at the end of a 25 metre pool.
Why is it the supreme anaerobic game?
All other sports allow the participants to breathe as they play. But in underwater hockey, players breathe through their snorkels on the top of the water before diving down to join the action. Some players can stay down for a long time indeed, but the real skill of the game is judging when to dive. It can take just a few seconds to tackle an opponent and pass the puck to a team-mate, and then return to the surface for a well-earned breath!
How many play?
There are 10 people in a team, but only six are allowed in the water at one time. This results in fast substitutions which resemble tag wrestling. The idea is to work quickly, and then get out to recover. This increases the speed and exhilaration of the game.
Who can play underwater hockey?
Just about anyone who can swim. It is easy to learn to use a mask and snorkel. This is a stark contrast to sub-aqua diving, which can take many months to master.
What are the benefits of playing?
Many doctors and other medical professionals agree that swimming is an excellent past-time. For those who find lane swimming monotonous, underwater hockey is an excellent alternative. It keeps your mind alert - and your body fit! It is also a game which provides plenty of opportunities to play friendlies and club games with other teams across the UK, Europe and around the world!